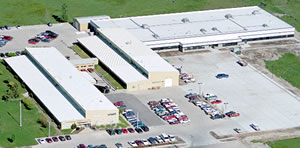 CAMPBELL SCIENTIFIC, INC., was organized in 1974 by Eric and Evan Campbell with initial capital from themselves, six brothers, and their father, Sanford Campbell. Dr. Gaylon Campbell, a professor at Washington State University, provided direction and help on new product definition and conceptual development.

The first product marketed by Campbell Scientific (1974) was the Model CA9 Path Averaging Laser Anemometer, which was developed for the U.S. Army, White Sands Missile Range, New Mexico. This instrument was patterned after a larger experimental version developed by the NOAA Wave Propagation Laboratory in Boulder, Colorado. About 60 CA9s were sold to military installations and other centers of atmospheric research.
The Model CR5 Digital Recorder was introduced in 1975. The CR5 was a portable, battery-powered datalogger of modular design using CMOS logic technology. To our knowledge, it was the first battery-operated system that could do time-averaged measurements from thermocouples, solar radiation sensors, and wind sensors requiring vector averaging. With 500 systems sold, the CR5 was well received by agricultural researchers interested in remote monitoring of wind speed/direction, temperatures, solar radiation, and other site-specific micrometeorological parameters.
By 1978, Campbell Scientific had expanded to 20 employees and about $1 million in annual sales. The Model CR21 Micrologger was introduced the following year. Over 3600 CR21 systems were sold worldwide. The majority of units were used in weather station applications where low power consumption, reliability, on-site processing, and unattended operation are essential requirements.
The CR21 represented a significant reduction in cost for systems requiring a limited number of channels while providing a vast improvement in flexibility because of software. An additional improvement in power consumption allowed more than six months of continuous operation from eight alkaline D cells.
Several CR21s were sold with custom software for specific applications. The custom programs were added to the standard instruction set, allowing the new functions to be executed without sacrificing the flexibility of the standard system.
In 1981, Campbell Scientific moved to its present location, into a solar-energy-efficient building located on the outskirts of Logan, Utah. The building was designed for optimum energy conservation, with a high level of natural lighting and an emphasis on keeping the cost at or below that of conventional buildings. A CR21 was used to control heating, ventilation, and air conditioning.
A significant technological achievement for Campbell Scientific occurred with the introduction of the Model CR7 Measurement and Control System in January 1983. Initially, the CR7 design was developed to provide the channel expandability of the CR5 system with the software and generic sensor interface capability of the CR21. However, improvements in integrated circuits and new ideas in analog measurement put the CR7 considerably beyond previous field measurement technology, and in some categories, surpassed the best laboratory equipment available.
Several of the 180 CR7 systems delivered in the first year were used in applications new to Campbell Scientific. These included monitoring the performance of experimental cars, geological structure stability in remote locations, and tumor temperatures during hyperthermia treatments.
Expansion of the more traditional agricultural research and meteorology markets continued, including systems for measurement of evaporation from weighing lysimeters, measurement and calculation of fluxes using covariance software, and measurement of soil water potential using peltier-cooled thermocouple psychrometers. Through 1994, 1,582 CR7 systems had been shipped.
The effort to transfer some of the CR7 capability to a lower cost, fully integrated system resulted in the development of the Model 21X Micrologger in 1984. At a cost slightly higher than the original CR21, the 21X in 1985 and 1986 was the highest quantity and highest dollar volume product at Campbell Scientific. Through 1994, 12,256 21Xs were delivered. The 21X also found its way into new markets including oceanography (instrumented buoys) and automotive testing.
Campbell Scientific has developed an RF modem to provide reliable two-way communication using VHF or UHF radios. This system was tested in the mountains east of Logan from December 1984 to March 1985. It was used with 21X Microloggers on Mount Logan Peak (9700 ft) and at Peter Sink where a low temperature of -70.5° F was recorded and transmitted.
The RF Modem is a key element in a system of 140 portable weather stations currently operated by the Atmospheric Sciences Laboratory at White Sands Missile Range in New Mexico. In 1988, a wind study was conducted where each station made measurements once per second, computing one minute averages. A central computer interrogated 30 stations via radio every 15 minutes for three weeks resulting in about 10 million values with 100% data recovery.
With new products and interfaces to products from other manufacturers, Campbell Scientific now has the capability to transfer data using switched network phone lines, cellular phones, dedicated lines, VHF, UHF, and spread spectrum radios, meteor burst transmissions, and satellites. In 1987, Campbell introduced the CR10 Measurement and Control Module. This quickly became the standard datalogger for most operational weather station applications. The CR10's unique package allows lower cost, better RFI/EMI shielding, and a tighter environmental seal. The CR10 also represented new technology in self-calibration of gain ratios to within 10 ppm over the full temperature range and a unique temperature compensated system clock. The ability of the CR10 to measure frequency of sinusoidal signals at analog inputs has allowed direct connection to vibrating wire pressure transducers. Through 1994, 27,370 CR10s were sold.
Continued emphasis on quality control has resulted in increased mean times between failures (MTBF) of Campbell Scientific equipment. Based on records of datalogger repairs (3 year warranty period), current MTBF is more than 80 years for the 21X Micrologger, 160 years for the CR10, and more than 30 years for the CR7.
Another area of product emphasis has been directed at software tools to aid data reduction and system program documentation. This development has been centered on the IBM PC and subsequent models, and compatible computers. In 1993 a new software package for datalogger networks, called RTMS, was completed which supports multi-tasking real-time monitoring. The state of Oklahoma installed more than 120 remote sites with RF communication to a computer running RTMS and which feeds a data stream over a TCP/IP link to the mainframe computer at the State Climatology Office.
Through the 1980s, Campbell Scientific worked with other researchers on the development of sensors for measuring heat and water vapor transfer from soil and crop surfaces using eddy covariance techniques. This requires a set of fast-response sensors for vertical wind, temperature, and water vapor. The effort included designing low cost sensors that could be transported easily and set up in the field to operate from batteries. To satisfy one of the requirements for this project, Campbell designed and patented a fast-response humidity sensor that measures absorption of ultraviolet light emitted from a krypton gas source tube.
From 1987 to 1991, engineers at Campbell Scientific were involved in a project to monitor underground fuel storage tanks for leakage. This project resulted in a significant breakthrough of using the combination of ultrasonic transducer and digital signal processing means to detect changes in liquid level with submicron resolution. This technology was subsequently licensed to Marley Pump Company to augment their product line of petroleum distribution equipment.
Campbell introduced products in 1991 to extend the utility of dataloggers to recording volumetric water content using time-domain reflectometry (TDR). These new products included probes, a multiplexer to connect multiple probes to a single reflectometer, and interface products to allow a CR10 datalogger to power up and communicate with a Tektronix Model 1502B Reflectometer. Working in conjunction with researchers who had developed computer models for determining volumetric water content from reflectometer readings, Campbell Scientific implemented software in the datalogger to do the same, which now allows the automated, remote-site measurement and recording of such information.
In 1991, Campbell Scientific introduced the BDR320 for hydrology applications. The BDR320 was designed for reliable, long-term, unattended monitoring in harsh environments with minimal power consumption. With four single-ended or two differential analog inputs and 17-bit resolution, the BDR320 precisely measured temperature, pressure, force, or position using common simple sensors. The device was ideally suited to water stage recording or well draw-down tests where precision measurements are needed from only one or two sensors. Through 1994, 1,410 BDR320s were sold.
In 1993, Campbell sold its first trace gas analyzer, a sophisticated instrument capable of measuring an absolute concentration of CH4 or N2O to parts per billion (10 Hz) and gradients to a resolution of parts per trillion (30 minute average).
In 1995 Campbell Scientific shipped its fastest datalogger, the CR9000. With sampling rates up to 100 KHz and parallel processing capability, the CR9000 supports demanding applications in noise and vibration measurement and turbulence studies. CR9000 includes Windows-based PC support software for easy program generation of simple applications, and a powerful BASIC-like language for programming support of complex applications.
During the 1990s Campbell Scientific expanded its manufacturing facility. We upgraded assembly and technician work areas, automated assembly and testing equipment, purchased Computer Aided Design (CAD) equipment for mechanical and printed circuit board designs, and improved our computer-based Manufacturing Resource Planning (MRP) capability to improve product availability and manufacturing efficiency.
Internationally, we established a subsidiary in Australia in 1993 for manufacturing, marketing, and customer service in the South Pacific and Southeast Asia. Our subsidiary in the U.K., Campbell Scientific Limited (CSL), has been operating since 1985. CSL was established to combine the technology developed at Campbell Scientific with sensors and peripheral equipment currently manufactured in the United Kingdom. They strive to provide products and support services to customers throughout the European Community at a reasonable cost. In 1996, CSL moved into a new, 17,000 sq ft facility custom built for their manufacturing, service, and support activities.
In 1996, Campbell Scientific began delivering the CR10X. The CR10X provided similar functionality as its predecessor, the CR10, but had expanded data storage, larger program capacity, non-volatile flash memory, battery-backed RAM and clock, and an expanded instruction set. The CR10X was our first datalogger to use surface mount technology. Surface mount technology provides the following advantages over through-hole technology:
Smaller component sizes
Improved signal speed
Reduced RF emission
Shorter lead lengths and ciruit paths between components
Less handling of parts
Improved manufacturing automation
Other products introduced in 1996 included the CR500 datalogger, CSAT3 Sonic Anemometer, and the MetData1 Weather Station. The CR500 dataloggger was an inexpensive cousin to the CR10X. It included some of the CR10X's features such as non-volatile flash memory and surface mount components but had fewer input channels. The CSAT3 Sonic Anemometer provides precision turbulence measurements with minimal flow distortion. It has a 10 cm vertical measurement path, operates in a pulsed acoustic mode, and withstands exposure to harsh weather conditions.
The MetData1 was a preconfigured weather station intended to ease field installation. All of its sensors are ordered with circular connectors that connect directly to the enclosure. The MetData1 bridges both the preconfigured world with ease of use, and custom weather stations by offering a variety of sensors and data retrieval options.
During this time period, there were many changes in our software. Most of our efforts involved switching from DOS-based to Windows-based software. We offered PCTour Tutorial Software, PC200W Starter Software, PC208W Datalogger Support Software, PC9000 Software, Visual Weather Weather Station Software, and RTDM. RTDM was developed by our European Affiliate, CSL.
The CR23X Micrologger was introduced in January 1998 as a direct replacement for the 21X. Like the 21X, the CR23X is a self-contained, low-power datalogger. The CR23X incorporated some of the CR10X features such as surface mount technology, non-volatile flash memory, and battery-backed RAM and clock. Features unique to the CR23X include a 23-character-by-2-line alphanumeric display and a built-in optically isolated RS-232 port. The RS-232 port allows computers to be connected to the datalogger without using an SC32A interface.
Responding to the needs of our customers, we upgraded our CR500 to the CR510 in January of 1998. The CR510 included a battery backed clock, an additional final storage area, and the wind vector instruction. New dataloggers continued to roll out with the release of the CR5000 in 1999. A cross between a CR23X and a CR9000, the CR5000 was more portable than our CR9000's, but offered expanded channels over our CR23X. The CR5000 also is the first compact datalogger to feature our CRBasic programming language and table data storage as standard features.
Campbell Scientific released the CR200-series dataloggers in 2002. The CR200 series consisted of low-cost units that could be used as wireless sensors or as simple dataloggers. The CR205, CR210, and CR215 all contained on-board spread spectrum radios that supported different frequency ranges; the CR200 did not have a radio. The CR200 series was also one of the first dataloggers to have a PakBus® operating system. For datalogger networks, the PakBus operating system improved upon traditional connection-based communications by putting data packets onto the network. PakBus networks have the distributed routing intelligence to continually evaluate links, optimizing delivery times and, in the case of delivery failure, allowing automatic switchover to a configured backup route.
The next generation of the CR9000, the CR9000X, began shipping in 2004. The CR9000X incorporated the new high-speed CR9032 CPU module, which processes at least 25 times faster than its predecessor, the CR9031. In addition to the 180 MHz Hitachi processor, the CR9032 also features a 128 MB internal SDRAM, a built-in PC card slot, an RS-232 port, and a 10/100 BaseT Ethernet port.
Besides dataloggers, the beginning of the new century saw the development of data retrieval peripherals, sensors, and systems. Data retrieval peripherals developed during this time period included our SAT HDR GOES satellite transceiver, NL100 TCP/IP interface, RF400-series spread-spectrum radio transceivers, COM210 phone modem, COM310 Voice-synthesized modem, and MD485 RS-485 Multidrop Interface. New sensors included our DMM600 Duff Moisture Meter and CS616 Reflectometer. New systems included our CSBUOYs for monitoring ponds, SSR100 for measuring water level, and our TDR100-based systems. Our affiliates had also produced several new products including the SDM-CVO4, SDM-CD16D, SDM-CAN, and SDM-IO16 developed by CSL and the CD294 DataView Display and the HydroSense® Water Content sensor developed by Campbell Scientific Australia.
In January of 2003, LoggerNet became our standard datalogger support software package, replacing PC208W software. LoggerNet supported connection to a single datalogger, but was especially adept in applications that required telecommunications or scheduled data retrieval used in large datalogger networks. Other significant software packages include PConnect Palm/Handspring PDA Software (released in 2001), Pond View Aquaculture software (released in 2001), PConnectCE PocketPC PDA Software (released in 2002), and PC400 Mid-Level Datalogger Support Software (released in 2004).
Have a Question?
Need a Document?
Need an Upgrade?
Need Training?